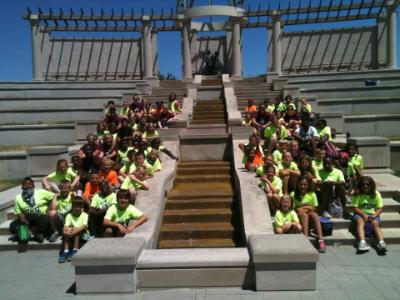 At Camp Schedule
6:30-8:00 Extended Care
8:00-8:15 Arrival, setup of campers
8:15-8:30 Sunscreen, water/bathroom
8:30-8:45 Welcome, prayer, song, preview of day
8:45-9:45 Outside free time
9:45-10:15 Morning snack, water/bathroom
10:15-11:00 Clubs
11:00-11:15 Transition
11:15-12:15 SWAN Rotations
12:15-12:45 Lunch/clean up, sunscreen
12:45-1:45 Recess/free time
1:45-2:00 Relaxation
2:00-2:45 Wild Card Clubs
2:45-3:00 Transition
3:00-3:30 Group Time
3:30-4:00 Reflection, Announcements
4:00-4:30 Afternoon snack
4:30-6:00 Extended Care
Friday Schedule
6:30-8:00 Extended Care
8:00-8:15 Arrival, setup of campers
8:15-8:30 Water/bathroom break
8:30-8:45 Welcome, prayer, song, preview of day
8:45-9:15 Morning snack
9:15-9:45 Swim prep (buddies, groups)
9:45-10:30 Group Time or Wild Card Clubs
10:30-10:40 Transition
10:40-11:10 Lunch/clean up
11:10-11:30 Pack up & room cleaning
11:30-4:00 Travel time & swim time
4:00-4:15 Reflection & Announcements
4:15-4:30 Afternoon Snack
4:30-6:00 Extended Care
Movie Day Schedule
6:30-8:00 Extended Care
8:00-8:15 Arrival, setup of campers
8:15-8:30 Sunscreen, water/bathroom
8:30-8:45 Welcome, prayer, song, preview of day
8:45-9:45 Outside free time
9:45-10:15 Morning snack, water/bathroom
10:15-11:00 Clubs
11:00-11:15 Transition
11:15-12:15 SWAN Rotations
12:15-12:45 Lunch/clean up, sunscreen
12: 45-1:30 Recess/free time
1:30-1:45 Relaxation
1:45-2:15 Transition (Money, Announcements)
2:15-4:15 Movie and refreshments
4:15-4:30 Cleanup & Outside free time
4:30-6:00 Extended Care
*Schedule subject to change.*
Please utilize the website, camp newsletter & staff for updates.
2017 Clubs
For each day, rank the 4 clubs 1-4 (1 being the club you are most interested in joining and 4 being the least.)
Day 1:
_____ Dude Perfect

This is the club for you if you enjoy trick shots, high fives, making cool videos, celebrations, and just putting smiles on faces. Modeled after Youtube Celebs "Dude Perfect", we will emulate them in this club!

_____ Beauty

This is for all the girls of LSKC who are interested in doing hair, nails, jewelry, and more. Most importantly though, during the course of this club they'll learn how to see inner beauty in everyone.

_____ Cooking
Join this club if you enjoy cooking. Learn about cooking hygiene,
recipes, measuring, and more! Enjoy your creations as well!
_____ Pokemon

This club was created to have a way to keep campers physically active, while having fun playing a popular game! This club will teach socializing and group team work as well!
Day 2:
_____ Media

This is the club for you if you enjoy the idea of being on a TV news show. We will have fun while learning to record a camp news show. Campers will also have a chance to show off their skills as in a way that is entertaining and educational!

_____ Newsletter

In this club the staff and kids will be putting together a weekly newsletter for all to enjoy! Join if you would like to help take pictures, do interviews & polls, and more.
_____ Art

Express yourself in this club. We will paint, sculpt, draw, write poetry, songs, and more. There will be journaling in sketchbooks to try to contain all the creativity.

_____ Lego

This club will so much fun! This club will have actual projects to build with legos in a way that teaches team work and how to use your mind to create ideas!

Day 3:
­­­_____ Ultimate Frisbee
This is the club for you if you enjoy playing Ultimate Frisbee, or just
"Ultimate". Not good at throwing a frisbee? Don't fret! We can teach
you, & even if you have the ability we can show you new techniques.
_____ Sports

Enjoy more than your everyday sports in this club! This may include unique options such as 4Square, Nitroball, Goalball, Rugby, Cricket, and more! Learn sportsmanship, and how to be a part of a team.

_____ Helping Hands

This club will be part of our camp voice project. Here your camper will learn to engage in community outreach and service work in fun, entertaining, and exciting ways. They will also assist in activities that help to raise money for various charities.

_____ Science (Genius)
In this club (and in real life) it is cool to be smart! Campers will
participate and learn in FUN ways about how awesome science can
truly be!