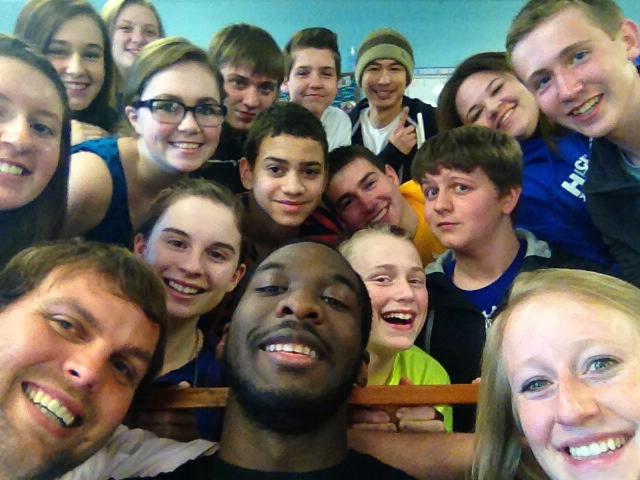 2017 LSKC Staff
Director: Chris Wynne
Returning to LSKC for his fourth year and first year as Director, Chris is excited about and loves helping kids have fun and grow safely in a Christian environment. He is currently attending the IU School of Social Work to obtain his Masters Degree. Chris is extremely excited about and looks forward to another amazing summer at LSKC!
Assistant Director: Rachael Wetli
Rachael couldn't be more excited to work with your children this summer at LSKC. She is currently attending IUPUI working towards her Masters in Social Work. Last May she graduated with her Bachelor Degree in Human Services from Purdue University. She enjoys meeting and getting to know everyone she can, discovering new country songs, exercising, sunshine, and creating some of her endless DIY projects she has pinned on Pinterest.

Assistant Director: Erin Shea
Erin was born in Indianapolis and is a life-long member of Lawrence United Methodist Church. She is a mother of four beautiful children who have all attended LSKC. She is the Youth Director at Lawrence UMC and is an instructional assistant for Lawrence Township schools. She is also studying Christian Ministries at Indiana Wesleyan University and will graduate with her Associates Degree in early 2018. She enjoys spending time with her children, watching sports (especially Colts football) and HGTV, being outdoors, vacationing on the beach, and spreading God's Word.
Counselor: Megan Stinson
Megan started at LKSC in 2007 as a camper and is looking forward to being a Counselor again this summer. She volunteers at a non profit organization called lambswear that donates clothes to kids in need. She will be a sophomore at Ball State University in the fall. She is a manager for the volleyball team and plays lacrosse in the spring. Her favorite thing about camp is playing ultimate frisbee everyday and being with the kids all day!
Counselor: Brady Windham
This summer will be Brady's fourth year as a Counselor at LSKC. He enjoys playing video games, playing basketball, watching NBA games, spending time with his family and spending weekends at Raccoon Lake. Brady will be graduating from Warren Central High School this spring. He is looking forward to another great summer! Brady began attending LSCK the summer after kindergarten and attended every summer until graduating five summers ago to become a part of the LSKC staff.
Counselor: Andrew Stinson
Andrew started LSKC in 2007 as a camper, and is looking forward to being a Counselor again this summer. He will be a Senior at Horizon Christian School this fall, where he competes on the Robotics team. He considers LSKC his second home, and can't wait for summer to begin!
Counselor: Sean Wiseman
Sean is beginning his fourth year as a staff member at LSKC. He attended LSKC as a camper and is excited to be back. He is entering his junior year at Hamilton Southeastern High School. He loves coming to camp and can't imagine summer without it. His favorite thing to do at camp is playing games and he can't wait to see what this summer has in store!!!!
Counselor: Sarah Hayth
Sarah is an LSKC alumni! Her and her siblings have all gone through the camp themselves. Her amazing experience as a camper is partially what has inspired her to return as a counselor, and to pursue her degree in Elementary education at IU Bloomington!
Counselor: Grant Cunningham
Grant will be a sophomore at Lawrence North High School this fall. He was a counselor in training last summer and looks forward to his responsibilities as a counselor this summer. Grant's favorite part of camp is ultimate Frisbee everyday in the morning and being able to hang out with friends. His favorite activities at camp are the theme days. Grant enjoys playing baseball and doing activities outdoors.
Counselor: Abbi Heaston
Abbi is new to our camp as a 1st year counselor, and she is extremely excited! She is looking forward to having fun with the campers and to have an amazing summer!
Counselor: Jojo Johnson

Jojo is returning again! This will be Jojo's 4th year as a counselor as LSKC and he is super excited about joining the camp again before he heads to Ball State University to begin his undergraduate degree in elementary education.
Counselor In Training: Aiden Jajuga
This will be Aiden's 1st year as a staff member for LSKC! He is super excited to learn and have lots of fun with the campers! Welcome Aiden!
Counselor In Training: Charles Kelley
This will be Charles' 1st year as a staff member for LSKC! Charles brings a relaxed and humorous attitude that is sure that bring smiles to the camp this summer! Welcome Charles!
Counselor In Training: Jackson Richey
This is Jackson's 2nd year as a staff member at LSKC! Jackson brings experience and a much appreciated sense of humor! We are all excited to have Jackson back at LSKC for 2017!
Counselor In Training: Lyric Jones
This is Lyric's 1st year as an LSKC staff member! Lyric is tremendously talented at dance and has a wonderful heart that will fit in perfectly at LSKC! Welcome Lyric!

Counselor In Training: Jamie Bryant
This will be Jamie's 1st summer as a staff member at LSKC! We are excited to have him be a part of team! Welcome Jamie!

Counselor In Training: Taelyn Shea
This will be Taelyn's 1st year as a staff member at LSKC! She is the daughter of Erin (Assistant Director), and has been a member of LUMC for many years! Welcome Taelyn!

Counselor In Training: Kristian Hurt
This will be Kristian's 1st year as a staff member at LSKC! After having been a camper for the past several years, along with his younger brother and sister, he is excited to join our team! Welcome Kristian!

Counselor In Training: Corbin (Corey) Crittenden
Corbin is going to be a sophomore at Lawrence North High School this fall. Corbin really enjoys interacting with everyone at LSKC and playing games with them. Corbin is a proud member of The Marching Pride of Lawrence Township in which he plays trumpet. This will be his second year working at the camp but his sixth year returning to LSKC.